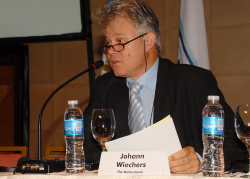 Prof. Dr. Johann Wiechers attended the 26th IFSCC Congress that was held in Buenos Aires, Argentina from September 20-23, 2010. He was involved as an international expert in judging some of the abstracts that were submitted to this Congress. From this work, he concluded that many of the papers would have a much more practical content than usual at IFSCC Congresses.
He was asked to chair the session on nanotechnology, introducing the first keynote speaker of the first full-day of the event, Dr. Elizabeth Jares-Erijman from Buenos Aires, who spoke about "Nanotechnology: The Small and the Beautiful". Although her work was not solely related to cosmetics, she did quote Johann's work on nanotechnology a couple of times.
Because he is out of the IFSCC Praesidium nowadays, Johann was able to follow many more scientific lectures than during previous IFSCC Congresses. Although there will always be a couple of disappointing lectures, he thoroughly enjoyed this IFSCC Congress and congratulates the AAQC (the Argentinean Society for Cosmetic Chemistry) for the excellent Congress they organized.
The next IFSCC Conference will be held in 2011 in Bangkok, Thailand. See the website for details. Again, Johann is involved, this time he is chairing their International Scientific Advisory Board.